NEWS
---
Career opportunity
An opportunity has arisen for a go ahead ambitious energetic person to join our busy kitchen team.

The right candidate will be trained in all aspects of our production including pastry, baking and cooking our pie filing to restaurant standard.

For more information please contact Taylor Scrutton on 01473 312055 or email enquiries@countrypies.co.uk

---
'Soggy' heroes raise £2000 for hospice
In torrential rain, supporters dressed as superheroes raised more than £2,000 in a fundraising walk for St Nicholas Hospice Care, in Bury St Edmunds in June. "Hospice Superheroes is one of the most fun events we do," said Jenny Baskett, Hospice Events and Challenges Fundraiser. "The men came with their friends and family and we laughed and joked every step of the soggy five miles."
more info


---
Country Pies expanding to whet appetites across country
Growing demand from across the country is leading Country Pies to double the capacity of their bakehouse at Capel St Mary, close to Constable country on the Suffolk - Essex border.

Their range of hand-baked pies delivered within 24 hours of leaving the oven is attracting orders from an increasing range of customers – from leading London restaurants to food outlets at Southend Airport, football stadiums and caterers supplying the wind farm industry in Lancashire.
more info


---
Traditional values paying off for Country Pies
Four years after Martyn Cox and Taylor Scrutton took over Country Pies, the Suffolk business is being relaunched with a new brand identity and expanding product range.

The identity focuses on its approach of hand crafting pies to traditional recipes and only making to order, baking fresh on the morning of delivery.
more info
---
In 2011 we co-operated with Suffolk College in providing work experience for some of their students. We ended up employing one of them and he is now celebrating his first full year with us! We are also now working with Colchester Institute - building up a good working relationship.

---
The 2013 summer was a busy one for Country Pies, with business in London
being particularly brisque!


Colchester United
We are extremely delighted to announce our association with Colchester United Football Club it means so much to us that we as a local supplier sourcing local produce have been given the opportunity to supply a local Football Club such as Colchester United!



New Pies


Our lighter summer pie fillings and quiches were very well received but of course have now been replaced by a new more robust winter range which is featured on our Home page, more winter quiches will be announced shortly!



Much needed aquisition


For some time now the lack of space has become a problem for us but has now been remedied by obtaining the adjoining building, the new unit will house a new office, staff kitchen, toilet facilities, staff room and more storage space.

The large upstairs will be turned into an office and hospitality area next year where we will do tasting demonstrations, the old office is being knocked out to create extra kitchen space!


,
Introducing our driving team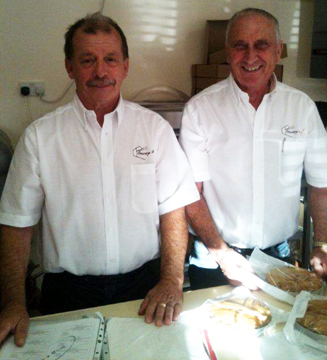 The faces that represent our business.

Alan (left) has been with us since October 2011 and Norman (right) has been with us since August 2011.

We would both like to thank them for the
continuous loyalty, support and help they give
un-reservedly contributing in no small measure
to the success of Country Pies - Thank you lads