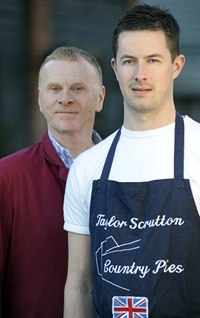 Martyn Cox and Taylor Scrutton,
co-directors with a passion for
their pies and together have
over 50 years' experience in
the business.
SPECIALITY PIES

DEDHAM VALE BRAISED BEEF, CAPEL MUSHROOMS & TRUFFLE OIL PIE

BRAISED BEEF WITH CHEESE & SPRING ONION PIE

LAMB, FRESH MINT & GARDEN PEA PIE


CHICKEN, SPRING ONION & THYME PIE

STEAK & STILTON PIE


---

SPECIALITY QUICHES

BUTTERNUT SQUASH, SAGE & RED ONION

MACKEREL, BEETROOT & HORSERADISH

CHICKEN, COURGETTE & ROCKET

SMOKED HADDOCK, SPRING ONION & CHIVE

ROASTED MEDITTERRANEAN VEGETABLE PIE


---

FRUIT PIES

APPLE, PECAN AND TOFFEE PIE

PEAR, CHOCOLATE, ORANGE & COINTREAU PIE

APPLE, BLACK CHERRY & TOASTED ALMONDS

APPLE STRUDEL PIE

STILTON, BLUE CHEESE & SPRING ONION QUICHE

BRIE WITH GRAPES & CARAMILISED RED ONION CHUTNEY QUICHE

SWEET POTATO, SPINACH & FETA PIE

CHEESE, POTATO & RED ONION SLICE
Still baking delicious pies for you



At Country Pies we're still busy baking and supplying our usual customers among village stores, farm shops and butchers.

Now we're also offering a home delivery service for vulnerable residents in Capel St Mary and surrounding villages.

You can call us and place your order on 01473 312055 or email enquiries@countrypies.co.uk - then we'll drop off at your door and you can make a card payment to avoid any contact.

We are, of course, unable to supply the restaurant, pub and catering sector which has been forced to close its doors, and we look forward to working with them when they are able to welcome customers again.