12.03.23 Our ethos is simple - and appeals to top chefs
Country Pies have been baking pies since 1993 at Capel St Mary, located close to the celebrated Constable country on the Suffolk – Essex border.

The company is under the control of partners Taylor Scrutton and Martyn Cox – food lovers who between them have 50 years' experience in the business, latterly with Direct Meats supplying some of the UK's leading restaurants and catering establishments.


Hand craft pies to the best traditional standards

Source from local producers wherever possible to keep down food miles and support local businesses

Make best use of seasonal ingredients such as asparagus and game to provide variety.
Importantly, we only bake to order. We 'prep' the previous day and then bake fresh on the morning of delivery, ensuring our pies are always supplied at their prime with a maximum five-day shelf life.

This recipe is enabling us to win business at many of the country's fine food establishments and gastro-pubs around East Anglia, to supply a number of London's leading chefs and to become bespoke pie master for upmarket retail butchers and food halls.

When the new terminal facilities opened at Southend Airport, it was to Country Pies that they turned to provide a range of pies - chicken and Suffolk ham, steak and Capel mushroom, and broccoli and spring onion – along with mini tarts and sausage rolls.

Recently, we have started providing our range of bespoke ready made meals to Stansted Airport.

Along with top selling steak pies our range includes:
A wide selection of large and individual meat pies

Tarts and speciality quiches made with eggs from free range Havensfield 'Happy Hens' from Hoxne and fresh herbs from our own garden at Churchford Farm

Suffolk 'Dingley Dell' sausage rolls – the 'Best I've ever tasted' according to one premier food buyer

A range of fruit pies in large or individual sizes.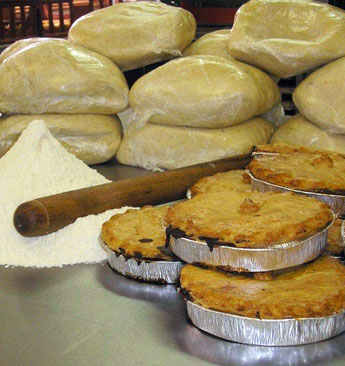 New range of bespoke
ready made meals
Meals to our customers requirements:
Spanish style pork and chorizo casserole
Mediterranean chicken dishes
Chilli con carne