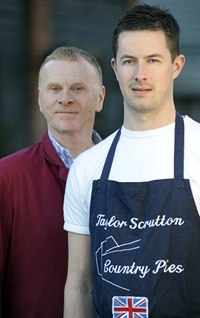 Martyn Cox and Taylor Scrutton,
co-directors with a passion for
their pies and together have
over 50 years' experience in
the business.

SUMMER PIES

---

BRAISED BEEF, CHEESE & SPRING ONION PIE

CHICKEN, LOCAL ASPARAGUS & ROASTED SUFFOLK HAM PIE

SALMON, LOCAL ASPARAGUS & ROCKET QUICHE

TAW VALLEY CHEDDER WITH SPICED APPLE CHUTNEY & THYME QUICHE

LOCAL ASPARAGUS WITH SHAVED PARMESEN & BALSAMIC GLAZE QUICHE

SUFFOLK HAM & LOCAL ASPARAGUS QUICHE

---

SPECIALITY PIES

CHICKEN, ASPALLS CYDER, SAGE & RED ONION PIE

LAMB, FRESH MINT & GARDEN PEA PIE


VENISON BOURGUINON PIE

CHICKEN, HAM & LEEK PIE

DEDHAM VALE BRAISED BEEF, CAPEL MUSHROOMS & TRUFFLE OIL PIE


---

SPECIALITY QUICHES

BUTTERNUT SQUASH, SAGE & RED ONION

MACKEREL, BEETROOT & HORSERADISH

CHICKEN, COURGETTE & CHORIZO

SMOKED HADDOCK, SPRING ONION & CHIVE


---

NEW ADDITION TO OUR SAUSAGE ROLL RANGE

PORK, CHEESE & COLMANS MUSTARD ROLL

PORK, CHILLI JAM & HEALTH GIVING TURMERIC ROLL

STEAK & PEPPERCORN SAUCE PASTRY SLICE

PORK & SPICED APPLE CHUTNEY SAUSAGE ROLL

DINGLEY DELL SAUSAGE & ONION PIE

COUNTRY PIES FREE RANGE SCOTCH EGGS


---

FRUIT PIES

PEACH MELBA PIE

PEAR, CHOCOLATE, ORANGE & COINTREAU PIE

APPLE, BLACK CHERRY & TOASTED ALMONDS

PEAR, SULTANAS, MULLED WINE, ALMOND, HAZELNUT & PECAN PIE

STILTON, BLUE CHEESE & SPRING ONION QUICHE

BRIE WITH GRAPES & CARAMILISED RED ONION CHUTNEY QUICHE

SWEET POTATO, SPINACH & FETA PIE

ROASTED MEDITERRANEAN QUICHE

CHEESE & ONION PASTY
Traditional hand crafted pies


Baked to order so always fresh
Our pies are our passion. We aim to create a pie which is not only a joy to eat but also a truly great eating experience.

With locally sourced ingredients, all our pies are hand crafted to traditional recipes. They're only made to order, and we bake fresh on the morning of delivery.

Country Pies have been baking pies for almost 20 years. We supply some of the country's fine food establishments - including London's top chefs - who appreciate the value of our expertise and using only the finest ingredients in their pies. Our venison and game pies are proving very popular with brasseries and gastro pubs - buying in pies to release chefs for other menu items.
COUNTRY PIES ARE PLEASED TO ANNOUNCE OUR NEW GLUTEN FREE & VEGAN RANGE

Handmade at East Rudham in North Norfolk using local ingredients in a dedicated "Gluten Free Kitchen" and pastry products which are coeliac safe.
..............................................


TARTS

Cheese and Spring Onion / Cheese and Tomato/
Cheese and Bacon / Chilli Cheese/ Goats Cheese and Herbs / Goats Cheese and Red Onion / Roasted Vegetable /
Spinach and Feta / Tomato and Spring Onion /
Tomato and Bacon
All 12cm Tarts - £2.99 each
..............................................

SAVOURY PIES

Steak Pie / Steak and Onion / Steak and Kidney /
Chicken and Tarragon / Chicken, Ham and Leek /
Chicken and Mushroom / Minced Beef /Curried Vegetable
All Generous individual 200gm Pies - £3.25 each
..............................................


DESSERT PIES

Bakewell Tart / Apple Pie / Egg Custard Tart /
Fruit Crumble Tart
All Generous individual 200gm Tarts - £3.25 each





COUNTRY PIES 2 U


Country Pies offer a nationwide delivery service. Packed securely in insulated boxes, pies are delivered fresh from the oven to your door within 24 hours of dispatch. All we require is 48 hours' notice

Select from our order sheet or contact us directly for availability of any of our new flavours! We accept most leading credit and debit cards.

PLANNING A WEDDING


We supplied our Steak and Adnams Ale Pie, and a vegetarian option to a large London wedding function. Where the caterer was quoted as saying 'The Pies were the Talk of The Town!'